As reported, three new ship-to-shore gantry cranes, built by ZPMC, have been delivered to the Port of Felixstowe for operations on berths No. 8 and 9 that are being extended for hosting two of the latest ULCS simultaneously. The cranes are of 70m outreach (24-wide), 64t SWL, 35m rail span and 49.5m lift height. As per Felixstowe officials, the lift height is sufficient to stack10-high deck stows at all states of the tide.The new cranes are equipped with driver aids and are designed to work with tandem-lift spreaders allowing two 40fts to be handled at the same time. The driver aids include partial automation of the loading cycle to reduce strain on the drivers and to increase productivity.
The cranes will be commissioned over the next few weeks and the extended terminal will be operational during the fourth quarter this year as per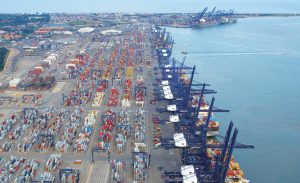 Clemence Cheng, Chief Executive Officer of the Port of Felixstowe.